Anouk is very close to completion. I have to finish the back. Then I will put the straps together and do the collar. I can't deny I am a bit worried about the collar since my last attempt at picking up stitches and creating a collar did not work out the way I expected (that would be my son's hooded sweater, the collar was more of a cowl but he loves it that way so it all worked out). I am keeping my fingers crossed.

I am toying with hosting my first Knit Along for Devan. Any takers out there? I am not sure I have enough of an audience to do it. I know Stephanie from And She Knits Too! is planning on making it but I haven't seen any blogs mentioning it.

I am also really, really tempted to make Charlotte's Web. Am I insane? I've been looking for my first foray into lace and some of the versions of this shawl that I have seen around the blogs have been absolutely stunning. I also just found myself with a $50 amex gift check from a friend which would just about cover the yarn and pattern from Threadbear. Dare I dive in? Or am I just getting a little too cocky because so many lovely people have complimented my Anouk. I'm so confused...

In the meantime here's a quiz! Can't deny I was a little surprised at the outcome on this one, but when I thought about there is truth to it. Thanks to Amy for the link:


Take the quiz: "Which American City Are You?"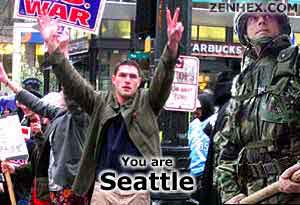 Seattle
Your dark exterior masks a caffeine driven activism. You'll take up a cause and you'll get ugly to advance it.